On this page you will find various resources about Buddhism, Zen and Mindfulness. 
Read about experiencing a Zen retreat in Robertson in this wonderful article by Charisse from Foot Sore & Fancy Free.
Some of the titles below are available from South African libraries. We also have a small collection of books and tapes at the Rondebosch centre, available for loan to our members, and a more extensive Buddhist library at our retreat centre in Robertson.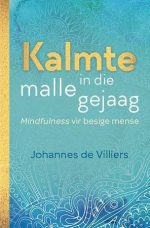 Kalmte in die Malle Gejaag: Mindfulness vir besige mense
For Afrikaans speakers who are interested in mindfulness. Written by our very own Johannes de Villiers, Dharma Teacher in Training.